THE FUTURE OF FLASHCARDS IS HERE!
Fargoes AR flashcards are changing the way kids learn and how parents teach today.
With the technology of Augmented Reality (AR), these flashcards become interactive for young children who are learning their spellings, sounds and facts.
Users can download the free Fargoes AR apps on their iPhone, iPad, or Android powered device. Once the app is downloaded, the flashcards can now be used with the app. Place the cards in range of the camera and enjoy the beauty of AR technology!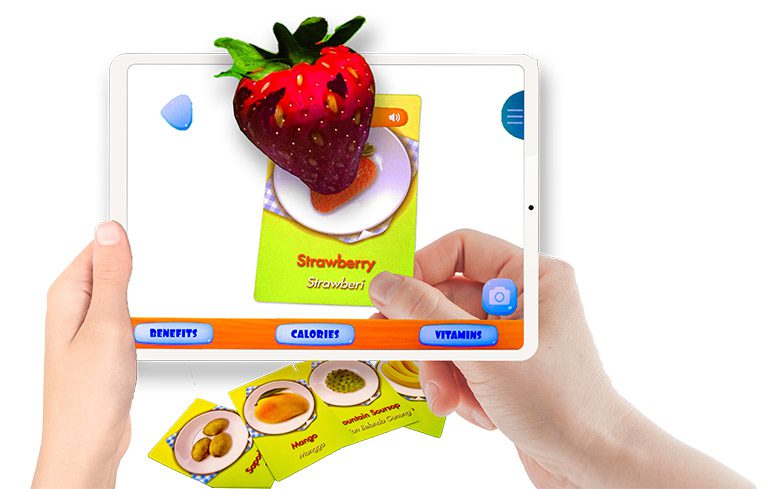 All You need to know about the Fargoes AR Flashcards
FREQUENTLY ASKED QUESTIONS
Why buy Fargoes AR Flashcards?
It's a 100% local product and it's developed for the local market in Malaysia. We are committed to provide you with added values and aftersales services. We are working with publishers, editors, educationalists, government entities and corporates directly.
What is the difference between a normal flashcard and 4D flashcard?
A normal flashcard is usually 2D (2 dimension) printed on a card and you don't need to download any applications on your smart devices. In a 4D flashcard you will be able to see the images in 4D (4 dimension) and you get the 360-degree view with the sounds and ability to zoom in/out through the applications on your smart devices.
Do I need to use the applications to view the 4D images?
Yes, you are right! The images come alive with sounds, descriptions, multiple audio languages and languages switching option, only when viewed through the applications.
What are the smart devices can be used to launch the apps?
As a minimum requirement, all smart devices with iOS 9 or Android 4.4 Kit Kat are compatible with the apps. Download it now to experience the beauty of AR!
Do you ship internationally?
Yes, only for orders in bulk. We can make special arrangements for shipping. Email us at info@fargoestech.com for further info prior to placing orders online for confirmation.
What's the duration of international shipping?
It may take more than 7 working days, depending on the country of destination. We use FedEx courier services for international shipping, so you can track the shipment too!
What's the duration of local shipping?
It may take between 2 – 3 working days to reach your postal address. For bulk purchases, we highly suggest you to use Registered mail to better keep track of your items. Unfortunately, we would not be responsible for lost items while in shipment.
I entered the activation code but it's not authenticating/working/registering my device. Why?
There could be a few reasons. Firstly, you would need an active internet connection when you enter the activation code, which is printed on the flashcard. Both iOS and Android uses the same activation code, as it's only printed on one side of the card usually. Do not be worried when you see that it's not printed on your device store type, as the same activation code works on both devices on iOS and Android OS. Place extra attention to case sensitive and alphanumeric characters in activation code.
Secondly, ensure that your smart device meets the minimum requirements of the application, which is stated on the Play Store or Apple Store app download page. If doesn't meet the minimum requirements, it could mean that your smart device requires upgrading to install or play the AR applications because it's not compatible. For further info or verification, please contact us.
How many smart devices can I activate?
You are only allowed to activate up to 2 smart devices using 1 activation code. If you would like to switch/replace device, please deactivate the application and transfer the code to another device.
Can I install the AR applications on my Windows/Mac PC?
No, this is a mobile devices only application. It would not work on a Windows/Mac OS platform.
I tried to scan but when I entered the AR mode, my screen went blank. Why?
First of all, in your phone/application settings, allow the camera and gallery to access the application. Ensure that you are in a low light area and place the flashcard on a flat surface and scan. If you still have a problem, you may directly email us or WhatsApp us. Contact details can be found on the flipside of the flashcards box.
We strongly encourage you to download the applications first to verify whether it's compatible with your smart devices before purchasing the flashcards.
Do you accept return, refund or exchange of products?
No, we do not accept any return except if it is manufacturer's fault. The refund will be in the form of credit voucher that can be used for next purchase.
For t-shirt, we accept the exchange of size if it doesn't fit but the return of mailing fees will be paid by the buyer.